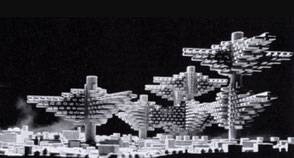 Air-City, Arata Isozaki, 1962 unbuild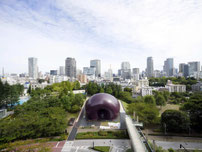 LUZERNE ARK NOVA, Arata Isozaki en Arnish Kapur,  2013, Foto: Iwan Baan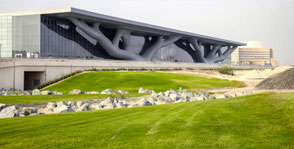 The National Convention Centre, Doha/Qatar, Arata Isozaki, 2011, Foto: Hisao Suzuki
Arata Isozaki (born 1931, died 29-12-2022) was a Japanese architect, theorist, and a teacher who died last week at the age of 92. After his study of architecture at University of Tokyo he was involved in the Kenzo Tange Lab where they worked at the last week Tokyo Plan. Searching for ways that the city could expands the Metabolists emphasized the concept of biological growth in architecture, implying that the city, as well as its structures, are living organisms that develop together.
In 1962 he created a futuristic proposal called "City in the Air". It is a project of capsules suspended in the air over cylindrical and modular megastructure 30m above the existing city. This tree- last week like structure with cantilever trunks can incorporate or remove unites of capsules in order to satisfy in real time the necessities of the residents.
With his own studio he becomes one of the star architects next to Zaha Hadid and Rem Koolhaas. He is known for the MOCA Museum of Contemporary Art in Los Angeles, Domus Museum in La Coruna in Spain, or the Art Tower Mito city in Japan. Isozaki was an experimental designer until the end of his life. He was working globally, and looked to the to Japanese tradition as well as to Western modern architecture.
He worked together with artists like Anish Kapoor on an air-inflated membrane structure LUCERNE FESTIVAL ARK NOVA. This concert-hall for 500 visitors equipped with a podium, light and electricity can be folded up and the equipment can be dismantled and loaded on a truck in order to be transported to different places. In 2013/2014 it was built up in Miyagi during the world famous music festival in Lucerne to give hope to the victims of Fukushima, and moved in 2015 to Fukushima and in 2017 to Tokyo.
The last design of Arata Isozaki is realized in 2011 in Dohar/Quatar, the National Convention Centre. It is a straight modern volume with a roof on a organic tree trunk structure which resembles an air-inflated construction. This design has a strong connection to the air-city idea of 1962, the capsule is  even more public and the structure looks even more flexible.
Further reading:
Brinkmeier, Ute. Rem Koolhaas en Toyo Ito Tussen Japanse en Westers Modernistische Architectuur. Bachelor UVA, 2013.